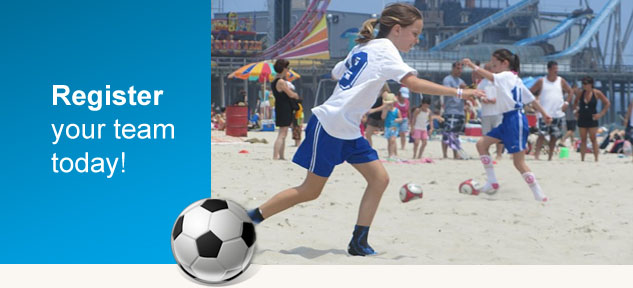 Dear Coaches,
We are looking forward to our 4th Annual Seaside Heights Sand Soccer Storm Tournament the weekend of June 14-15, 2014 we hope you are too! We are excited to bring this magnificent event back to the beautiful beaches of Seaside Heights, New Jersey because we'll be able to help support the community of Seaside Heights and the Jersey Shore!
Each registered team will receive 3 guaranteed games of beach soccer with the possibility of advancing for a 4th championship game. In addition, each team will receive 10 Ride and Slide wristbands to Breakwater Beach Waterpark and Casino Pier Amusements all for the affordable price of $625 per team!
We look forward to seeing you and your team on the sand helping the Jersey Shore restore, revive and rebuild. If you have any questions, please feel free to contact us at info@sandsoccerstorm.com.
See you on the beach,
Colleen & Susan
Tournament Directors